I have enjoyed Brenda's posts about living small. Her blog
Cozy Little House
has been talking about the benefits of small dwellings both from an ecological and emotional standpoint. Perhaps this is why I love the little cabin so much. I found this cabin the summer after my husband died. It was here that the healing began. Some wondered how I lived in such primitive surroundings. When I met Jack, he loved the cabin. That was the first hint about how well we would get along. It had always been his wish to spend a summer by the lake - the second hint. A kiss stolen on the cabin porch was the first page of the first chapter of the new life.
The cabin is not ours. We rent from the wonderful owners who have graciously allowed me to add some furniture and decorate a bit. Quilts hang from the loft railings and Fiestaware fills the cabinets.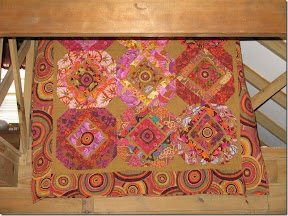 Last year my resolution for the new year was to accomplish. I did. This summer I plan to enjoy these surroundings more than I ever have. I need to blend relaxation and accomplishment.
The porch has a glider. We found a table and chairs for the porch and have most meals outside on the porch. This weather the past few days has forced us inside.
Cookouts are a frequent occurrence. Watermelon is a favorite.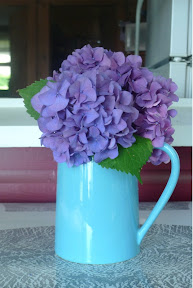 More to follow.