We are covered with quilts. I would like to share some with you. My modem for my computer is not reliable so the iPad is what I am using (giving new meaning to hunt and peck).
I gave my son and his fiancé this churn dash which I made years ago. I forgot to photograph it so he obliged. Thank you Jeff.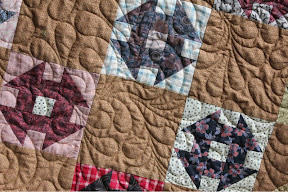 I made the wall hanging for Jack after he admired it at a local quilt shop. It hangs over the bed at his house. On the bed is the quilt I made which we refer to as the "wedding" quilt.
Folded at the bottom is a rail fence made years ago but recently quilted.
Also a few years ago I made a mystery quilt. In fact I made two of the same one! I traded cutting and piecing for finishing a sweater. I have hung this one on the wall in the cabin.
I was able to finish this blog with an internet connection elsewhere. Thank goodness. I am done with the quilts for now. I hope to be adding them to my quilt gallery tab soon.
Hope everyone has a wonderful week. I am going to knit and look at the lake!